Through our 6th year, on top of our activities, Cross Fields reexamined the organization vision and mission as a team. After multiple discussion and workshops, we took the significant step of changing our mission. In order to realize our vision, we believe that it is important to analyse our impact and continually make changes to our activities in light of the current social landscape. With Corporate Volunteering Program (CVP) continuing to be our main activity, we strive to share our vision and mission with more people through other activities such as Workshop, Field Study and Social Enterprise/NGO Support.
Bridge Beyond the Border
Encourage Challengers
Together Create the Future

*With the Japanese version of our mission finalized, we are currently discussing the English phrase. The above might have a slight alteration.
Cross-Border Collaboration: Building Inclusive and Sustainable Society in Indonesia and Japan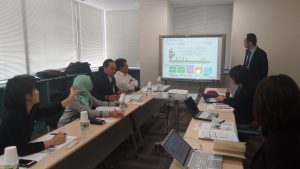 Cross Fields is cooperating with Saujana Indonesia, a social enterprise that promotes employment of Person with Disabilities (PWDs), to reinforce an inclusive society by publishing a practical guideline for Indonesian corporates on employing PWDs. To gain new insights into the project, we have involvement of Future Dream Achievement, a nonprofit organization supporting those with difficulty finding work including PWDs, and Mr. Soya Mori, the senior researcher at Institute of Developing Economies-JETRO.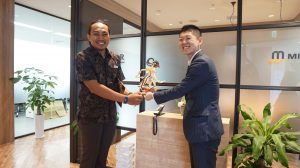 Moreover, for mutual learning and exchange of ideas on good practices in two countries, we coordinate study trips for both sides in Japan and Indonesia. Indonesian team visited Japan in March, and the Japan team will visit Indonesia next week. During the visit, Indonesia team will launch its newly written guidebook for Indonesian companies to employ PWDs. It will be introduced to Indonesian government officials, companies, and NGOs at an event. Japan team will also visit multiple organizations that employ PWDs, and better understand the current situation and challenges in Indonesia to consider more approaches to solving them. We strive to create more synergy between Japan and Indonesia through this interaction.
*This project is made possible by the grant from the Toyota Foundation.


In search of new Support Programs for NGOs and Social Enterprises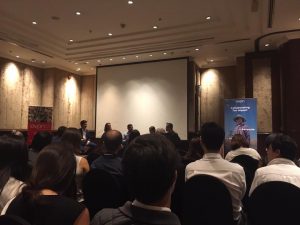 In June, Daichi Konuma, the Co-Founder and CEO, and Tomoko Kitagawa, project manager, attended the AVPN Conference 2017 in Bangkok. The AVPN Conference brings together a diverse group of resource providers, philanthropies and social investors across the world to Asia. With the theme of "Collaborating for Impact," the conference included over 700 attendees from 32 countries who are interested in collaboration and knowledge sharing in order to strengthen the social sector ecosystem.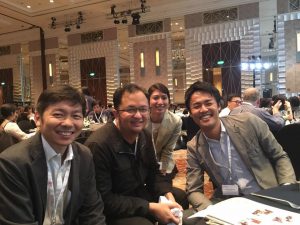 The main objectives for Cross Fields participation were understanding the investment side of the social sector, networking with various foundations, and spreading awareness about our social sector support programs. Through meetings and exchange of ideas with various foundations and investors, we gained insights on how to strengthen our social sector support programs using values of the Sustainable Development Goals (SDGs) and encountered possible partners to further discuss our ideas. From the perspective of Japanese social sector, we also considered the lack of global recognition of Japanese social entrepreneurs. Hence, we also began to brainstorm a scheme to work with social entrepreneurs in Japan who are addressing social issues common across Asia and encourage cross-border collaboration, which is one of the underlying objectives of our social sector support program. Cross Fields will continue to use the values that were reinforced at the conference, in solving complex social issues in Asia and the world.

Expanding CVP to Malaysia:
Hitachi-Omron Terminal Solutions, Corp. x TONIBUNG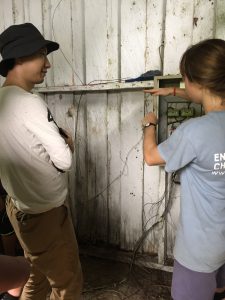 "TONIBUNG", an NGO in Malaysia, which works for rural electrification, focusing predominantly on micro-hydroelectric systems, hosted a volunteer, Mr. Yoshinaga Horii, from Hitachi-Omron Terminal Solutions, Corp. for two months from February 2017. Aged 38 and with 10 years of experience as a software engineer, Mr. Horii worked at TONIBUNG to tackle their challenges. First, Mr. Horii worked on how to improve the prepaid system for micro-hydro electric system, as the prepaid system had many errors, which could be solved neither by the users nor TONIBUNG members. Second, Mr. Horii developed an information management system for TONIBUNG, as it did not have a comprehensive information/data management system for internal use.
Among all the work Mr.Horii had done, developing an effective information sharing system was his biggest contribution. He tried various approaches to get the system to function efficiently. He also taught TONIBUNG members about the usability and effectiveness of the IT system, so that members can understand the importance of using it to make their work more efficient. Through this experience, Mr. Horii realized that making a system is not the most difficult part of the work, but engaging people to use the system sustainably is the biggest challenge. TONIBUNG members were delighted to learn and use the system to improve their activities.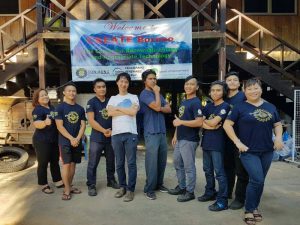 Mr. Horii learned not only from his IT work but also from TONIBUNG's mission and members' passion towards making a better society. Mr. Horii proactively communicated with the members to understand their values, and realized that sharing the same goal to make a difference in people's lives builds for a very powerful team. TONIBUNG also learned from Mr. Horii's diligent, independent, and professional work, creating an effective IT system in a limited time. The project ended in success with much mutual learning and a great contribution to TONIBUNG.


Celebrating the 6th Year of our Foundation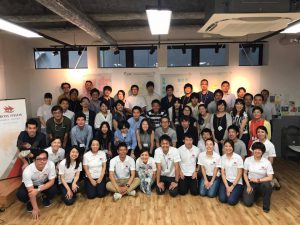 On July 23th, we celebrated the sixth anniversary of Cross Field's foundation. Last fiscal year, we delegated 20 volunteers to 16 partner organizations across 6 countries. Before the guests from our partner companies, supporting members and CVP alumni, we presented our new mission and strategic plans and received encouraging comments. With new partnerships both in and out of Japan, we were able to endeavour on new activities and we sincerely appreciate your kind support and cooperation. As we continue to aim for greater impact to addressing social issues, we look forward to collaborating with you further!


Welcoming our First overseas Intern from India!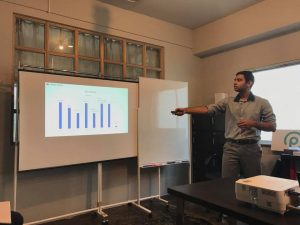 From June to July, Cross Fields welcomed Mr. Vishal Kannan from India as our very first overseas intern. During his internship, Vishal contributed in many aspects of our activities especially in researching and connecting Cross Fields to new organizations in Southeast/South Asia and building stronger relations with a Japanese corporate by conducting surveys.
Message from Mr. Vishal Kannan: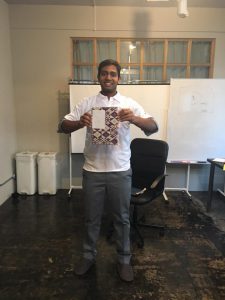 Hello, I am Vishal Kannan, currently a mechanical engineering student. Over the past few years, I have done research in the field of finance, got business and leadership exposure from the Stanford Business School and taught mathematics for underprivileged students along with pursuing my bachelor's degree in mechanical engineering. I also have two international journal publications in the field of finance and engineering. My exposure to technology, business and social service brought me to Cross Fields as an intern.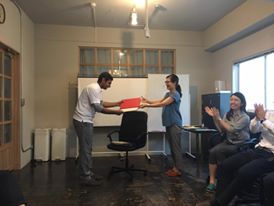 My internship experience has been fantastic for me professionally, as well as for unlocking my thought process about the potential of NGO- Corporate collaboration. The last 2 months has by far been the greatest time of my life. From my observation during the internship, the way in which the Cross Fields' members handle their stakeholders was fascinating for me. This has taught me the unique skill of generating new ideas for stakeholders as well moulding important values within me. Due to the freedom of interns trying new ideas and suggesting them, I have learnt that the combined thought process from both fundaments as well as past experience is essential for solving complex problems in the world and within an organization. The founders of Cross Fields have also taught me how to persevere during the journey towards success. I am very grateful and thankful for this opportunity and experience.

---

Copyright © 2017 CROSS FIELDS, All rights reserved.
We send this newsletter to those who have kindly shown interest in and extend support to CROSS FIELDS' work.
Our mailing address is:
Cross Fields
4F Machihara Building, 3-8-3 Nishigotanda
Shinagawa-ku, Tokyo 141-0031
Japan