Cross-Border Collaboration: Japan team's visit to Indonesia and Launch of the guideline on employment of Persons with Disabilities (PWDs)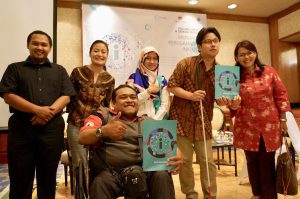 Since November 2016, Cross Fields has been working on the cross-border collaboration project with our partners in Japan and Indonesia on building inclusive and sustainable society, with particular focus on promoting employment of Person with Disabilities (PWDs). At its final phase, Mr. Shunsuke Narisawa of Future Dream Achievement (FDA), and Cross Fields members went to Indonesia in August. Hosted by our partner, Saujana Indonesia, the team visited various organizations, such as Indonesian government officials, companies, and NGOs to learn about their practices and exchange ideas on further promotion and implementation of building inclusive society. Another highlight of the trip was the event to launch the completed guideline for Indonesian companies on the employment of Persons with Disabilities (PDWs), created in collaboration between Saujana, FDA and Mr. Soya Mori, the senior researcher at Institute of Developing Economies-JETRO. Participants at the event included officials of Ministry of Labor, companies and NGOs, as well as journalists of national newspapers. With rising awareness towards diverse employment including PWDs in the country, the discussion session was energetic with many exchanges of ideas. The guideline will be made available for Indonesian companies.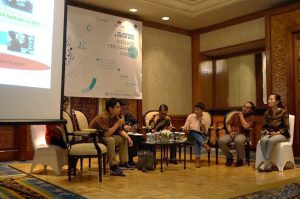 Reflecting back on the visit, Mr. Narisawa said, "It was a great opportunity for me to speak with so many people in Indonesia, who have similar concerns or motivation to improve the current situation. I found that there are many common points between Japan and Indonesia. I have also gained new insights, such as using IT to improve the working environment for PWDs." Not only in addressing the challenges in their own countries, but in building bonds between leaders of Indonesia and Japan with similar goals and visions, it will be the milestone in collective impact to addressing the common issue in the region.
*This project has been made possible by the grant from the Toyota Foundation
To learn more about our Social Enterprise/NGO support, please visit the following
link: https://en.crossfields.jp/activities/support


New Project for Cross-border Collaboration: Addressing common social issue in Asia ~Promoting organic farming in Philippines, Vietnam and Japan~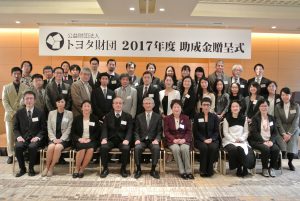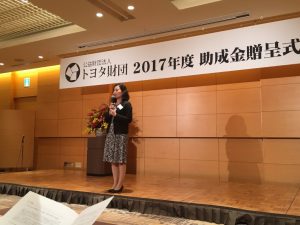 In continuation of the previous cross-border collaboration project under the Toyota Foundation International Grant Program (see above), Cross Fields will be working on the new mission of "promoting organic farming across Asia," beginning with a particular focus on Japan, Philippines and Vietnam. Organic farming has become more common in recent years, but compared to Europe and North America, it has yet to expand in order to create greater impact for conserving the environment and providing people with healthy food in Asia. In order to tackle challenges facing organic farming and to promote its expansion in the region, Cross Fields is collaborating with the following partners; SAKA NO TOCHU Co., Ltd of Japan, a social enterprise that supports new small-scale organic farmers through providing sales channels and trainings, Good Food Community of Philippines, a social enterprise that works with rural farmers to deliver organic products to urban consumers, and Fargreen of Vietnam, another social enterprise who works mainly with rice farmers for efficient rice and mushroom cultivation. Throughout this two-year project, we will organize field visits in the three countries for sharing good practices and exchange of ideas with various stakeholders. Each team will then create deliverables based on knowledge and insights gained throughout the interaction to address challenges of each country. Please keep your eyes out for our upcoming newsletter for new development on the project.

Our corporate volunteer featured on a documentary currently airing on All Nippon Airways (ANA)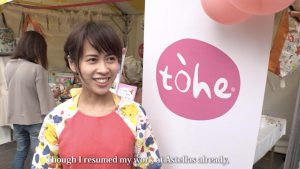 A documentary was released this month on the Japanese airline, All Nippon Airways (ANA), featuring one of our Corporate Volunteering Program (CVP). It covers the story of Ms. Miwako Tani, who works at Astellas Pharma Ltd., a major pharmaceutical company.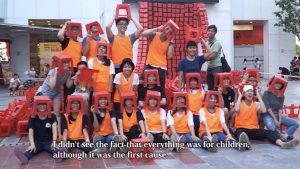 From May to September of this year, Ms. Tani spent about three months at a social enterprise in Vietnam, Tohe. With the mission to support and nurture children, especially those with disabilities and from disadvantaged families, Tohe produces and sells goods with the prints of children's playful and colorful artworks, to utilize the funds for social activities. Throughout the documentary, the camera captures Ms. Tani and her effort to expand Tohe's distribution channel to the Japanese community in Hanoi and to the Japanese market by utilizing her expertise in sales. Inspired by the passion of Tohe members for their work, Ms.Tani also enthusiastically brings in her Japanese perspective and sense to making suggestions for packaging improvements and product selections for Japanese costumers to make as much contribution as possible to Tohe. Moreover, by engaging directly with Vietnamese children at Tohe's events, she experiences a personal change in perspective in becoming more aware of what is beyond her work, in another words, the people she wants to create impact for through her work. One of the founders of Tohe, Mr. Nguyen Dinh Nguyen also speaks about the reason why he decided to print paintings of children and his passion for his work at Tohe.
This documentary is currently aired on ANA international flights from November to around February 2018. It is available in both English and Japanese, so if you have a chance, please have a look!

First Corporate Volunteer from Asahi Kasei Pharma Corporation: Du'Anyam (Indonesia) x Asahi Kasei Pharma Corporation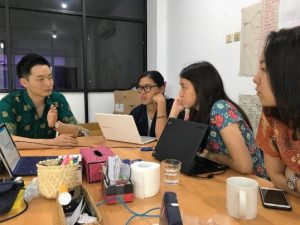 Du'Anyam, a social enterprise in Indonesia, which works for empowering women especially for expecting mothers in Flores Island, hosted the second volunteer from Cross Fields. Mr. Yuki Sawada, from Asahi Kasei Pharma Corporation, worked with Du'Anyam for three months from May 2017. With the 7-year experience as a Medical Representative, Mr. Sawada focused on improving their sales/marketing toward Japanese market, as Du'Anyam is on the phase to expand their customer base internationally. Mr. Sawada utilized all his skills and experience for this mission to network with Japanese living in Indonesia, implement related events/workshops, and provide necessary support to start exporting its products to Japan.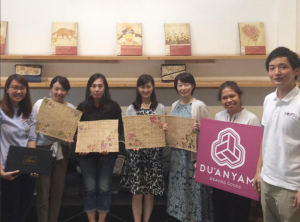 One of the highlights of Mr. Sawada's contribution to Du'Anyam was the planning and implementation of the very first workshop targeting Japanese customers. He took initiative in designing its concept, choosing the target customers (this time, the Japanese housewives living in Indonesia), negotiating with stakeholders, and facilitating the workshop as the host. Throughout the planning phase, he discovered that what he had in mind for the ideas more appealing for Japanese customers was slightly different from the ones of the Indonesian team members. Thus, he put time and effort in having numerous discussions with the team members and reaching a consensus by taking into consideration the ideas of the team members, while communicating his thoughts and opinions as the person in charge. Through this experience, Mr. Sawada, who previously felt uneasy about the act of sharing his opinions with others, realized that it is in fact the creative process to enhance ideas collectively as a team to make it the best one possible. Furthermore, he discovered that he can be confident in expressing his opinions when there is strong purpose to do so.
Mr. Sawada gained insights not only from his sales/marketing work, but also from Du'Anyam members' passion towards creating a better society for women in rural Indonesia. By working with them, he realized that true leadership are exhibited not just in their words, but in their attitudes and actions based on their purpose. Du'Anyam also learned from Mr. Sawada's sincere, independent, and professional workstyle. The project produced mutual learnings for all parties.

---

Copyright © 2017 CROSS FIELDS, All rights reserved.
We send this newsletter to those who have kindly shown interest in and extend support to CROSS FIELDS' work.
Our mailing address is:
Cross Fields
4F Machihara Building, 3-8-3 Nishigotanda
Shinagawa-ku, Tokyo 141-0031
Japan